Where can I find motorcycle rides near me?
The Question often asked
People often ask "Where can I find motorcycle rides near me?" I open
one of my scenic riding guides and turn to the page that shows the starting point for each of our scenic back road rides. The response I often get is "I never knew there were that many good rides to ride in the area". The great thing about riding on the on back roads is you can take your time, actually get to enjoy the ride. This is one of the main things we always try to point out, enjoying the ride, just spending time getting out on the open road and enjoying the ride. We always make the motorcycle ride experience simple, the layout we use for our routes is simple and easy to use. I always set my odometer to zero and know when I reach a certain mile, I will be turning left or right, and I just follow the easy to use instructions. This is my preference and has always worked for me, you can also use our gps routes to go on your scenic journey, I feel the best way to go on a scenic ride is to use the method you are most comfortable with; the main thing is to just get out there and enjoy the ride.
The Solution
Let's take a look at one of scenic riding guides; we will use the Scenic Riding Guide of Florida Book as an example.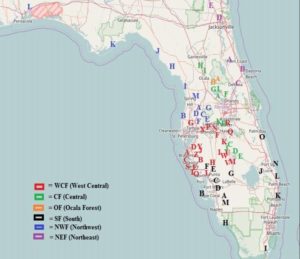 Let's take a look at the starting point map page; this is a great resource to show where you can find motorcycle rides near you. Looking at the page I can see all the rides in the state, I can pick which area I choose to ride in, I know that each of these rides will get me on some of the best roads the state has to offer. The ride that looks great to me today is ride "I" located in the Northwest section of Florida, the Crystal River Ride. This ride has some roads like the Ozello Trail and the Homosassa Trail just to name a couple. This scenic back road ride will take me on 129 miles of roads where I can just enjoy the ride. It's time for me to get out there, ride and enjoy an open road. I hope to see you out there on the scenic back roads.
If you need some ideas of things to do while passing through Crystal River take a look at https://www.visitflorida.com/en-us/cities/crystal-river.html
Manatees have always fascinated me. It is one of the reasons I love Crystal River so much. I even shot some underwater video of these magnificent creatures a few years back. You can see a portion of the video here.