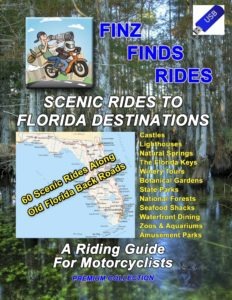 "Because the greatest part of a road trip isn't arriving at your destination. It's all the wild stuff that happens along the way." — Emma Chase
Our scenic riding guide books are not books about maps, but about enjoying great open back roads and to really enjoy riding. There are plenty of roads, but we have start to finish rides. We provide you with easy to follow instructions, so you can become the back road guru. I think now is a great time to plan a future road trip, a road trip that will get you out there and see what wild stuff can happen to you. We are often asked how to plan a road trip, what steps do you need to take to get you on your way, to enjoy the open roads. Well it's time for us to put together a short checklist of items to get the journey started.
Choose an area to start your journey
I start my planning by looking at the area I want to start in. I am going to start with my Scenic Rides To Florida Destinations Book – 60 Rides book, and this guide makes the road trip planning an easy task. I am going to start my trip in the Tallahassee area. Looking through the book I see there is a Castle ride that starts in Tallahassee, so this will be my starting point. Looks like I am going to be seeing some castles.
Choose an area to end your journey
I end my planning by looking at the area I want to finish in. I am going to finish my trip back near Tampa or Bradenton, and I see that another Castle Ride will take me back to my desired ending point.
Plan the route between your areas of interest
This is the start of the fun, getting to select the route I will be taking. Once again my task is a simple one. All I need to do is follow the easy to use turn by turn directions on the route sheets, or upload the directions to my GPS. My trip is going to consist of the first two rides in the castle section, Castle Ride Part 1 (Tallahassee to St Augustine) and Castle Ride Part 2 (St Augustine to Ona). This road trip will be a total of 451 miles, because the mileage for each leg of the trip is listed in the index of the book.
Look for items of interest along your route
This is part of the fun of a road trip, getting to see items that interest you along the route. This task was made simple for me because I will be taking a castle themed ride, so I will be seeing castles along my route.
Look for accommodations along the route you have planned.
So many people plan road trips based on where they want to stay, I start looking for the places to stay after I have my route in mind. Since I will be starting in Tallahassee I will use Airbnb or Tripadvisor to find a place to stay. I will use the same process for the second leg of the journey. Try to find a place that has some character or something that peaks my interest.
Plan where to get gas and where to eat
I plan my gas stops and places I will be eating ahead of time. Sometimes I will deviate from my plans if something interesting pops up along the way. Using Airbnb the owner of the place can usually point me to a good place to eat during my stay, or if I use Tripadvisor, there are reviews of restaurants in the area. Either will suit my needs. Planning my gas stops take a little more work. My motorcycle can do around 225 miles on a tank. On the first segment of my road trip, I see that Step 10 in the first ride puts me at 137.8 miles on my first leg of the journey, so this will be a good place to stop for gas and stretch my legs. I pull this area up on google maps and see there is a gas station at this intersection, so that is where I will be filling up and getting a quick bite. I will repeat this process for the second leg of my journey, and my gas stops and food stops have been completed. I just want to point out the route sheets included with the book have total mileage listed with each step of the ride, so I can see when I have to start looking for gas. If you are using the GPS version of the routes, you can use the find gas function during any part of your road trip.
Last Step
Last step is to get out there and ride. This process can be used with any of the books I have in my collection. The process is easy to follow and if you need any help planning that great road trip, send over questions by using my contact form.